[MAR.2023] Representatives from Kenya's Baringo County Visits Gyeonggi-do
Name 관리자
Date 2023-03-27
Views 451
Representatives from Kenya's Baringo County Visits Gyeonggi-do
- Future cooperation with Africa -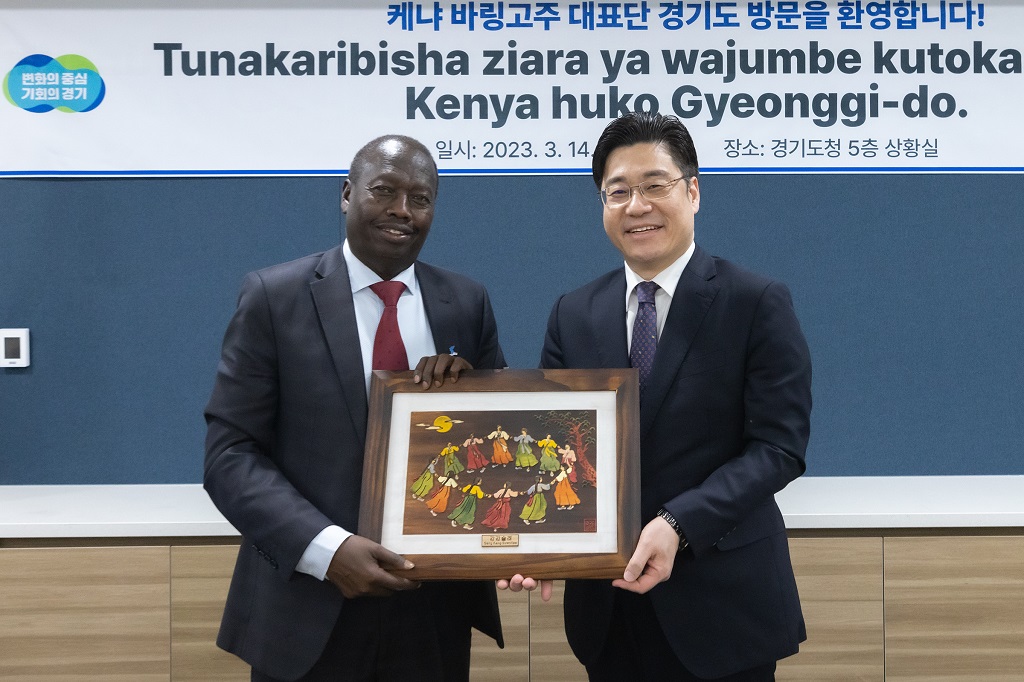 Representatives from Baringo County, Kenya, Africa visited Gyeonggi-do on March 14, 2023. Under the leadership of Governor Benjamin Chesire Cheboi of Baringo County, the representatives visited Gyeonggi-do and received a tour of the Gyeonggido Assembly and Gyeonggi-do Provincial Government.
Gyeonggi-do's 1st Vice Governor for Administrative Affairs Oh, Byoung Kwon had an official meeting with Governor Benjamin Chesire Cheboi and discussed possible healthcare support measures between Korea and Africa.
Oh stated, "We hope that this meeting can serve as a catalyst to continue our partnership with the continent of Africa." He added, "It is our hope that the partnership between Gyeonggi-do and Baringo County will be an opportunity for Kenyan medical healthcare experts to come into contact with healthcare technology of Gyeonggi-do."
This meeting was organized upon request from the representatives from Baringo County during their visit to the Gyeonggido Assembly. The two groups discussed cooperative measures in the healthcare sector, including medical training programs and medical volunteering.
Under the leadership of Governor Benjamin Chesire Cheboi, the representative group from Baringo County consisted of the Director of Baringo County Government ministers (CEC), the 1st Vice President of Kenya National Chamber of Commerce and Industry, and the Ministers of Finance, Agriculture, Livestock and Fisheries, and Health of the Government of Baringo County.

Gyeonggi-do has been signing healthcare MOUs with foreign governments since 2010, forming regional relationships with 26 regions in 12 cities. Such partnerships have led to ▲the human capital exchange in the healthcare field with experts and healthcare provider training programs; ▲the exchange of information on healthcare information systems, as well as healthcare devices and pharmaceuticals in order to enhance the levels of healthcare service; ▲the exchange of health policies such as the prevention and management of cancer, cardiovascular disease, and cerebrovascular diseases, as well as emergency medical service systems; ▲the provision of support for conferences, symposiums, exhibitions, and other events related to the healthcare sector.
Baringo County is one of the 47 counties in Kenya, with a population of 670,000. The county has a great partnership with various NGOs in Korea, and is known for its namesake coffee beans.
The healthcare partnership between Baringo County and Gyeonggi-do is the first exchange with an African country in 10 years after forming partnerships with Malawi in 2012 and Ghana in 2013. Gyeonggi-do will continue to expand its healthcare partnerships with various governments