[May 2023] Participation of Gyeonggi Province in the Kazakhstan International Healthcare Exhibition.
Name 관리자
Date 2023-05-23
Views 331
Participation of Gyeonggi Province in the Kazakhstan International Healthcare Exhibition. Export Consultation Achievements of Gyeonggi Province Companies: $7.1Million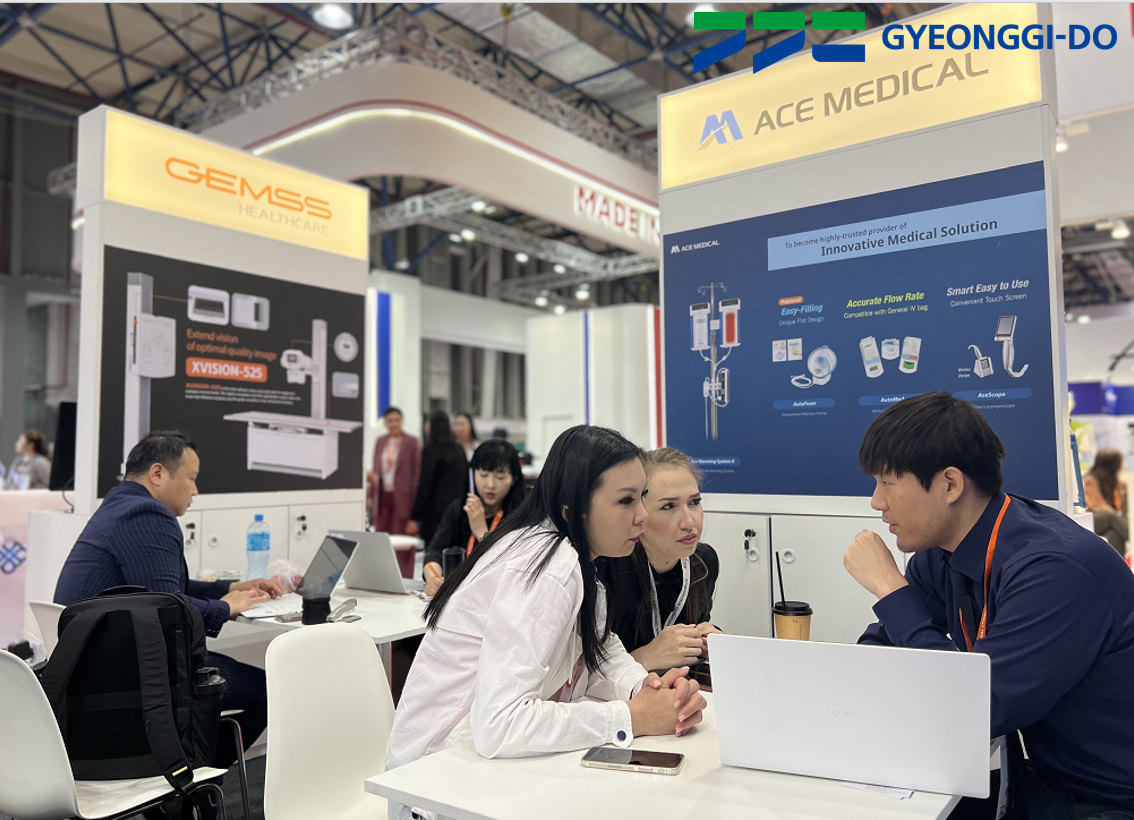 Gyeonggi Province formed a joint pavilion for healthcare industry companies and achieved significant results in export consultations during the '2023 Kazakhstan International Healthcare Exhibition' held in Almaty, Kazakhstan from May 17 to 19, 2023. The province recorded 60 export consultations amounting to $7.1million.
Gyeonggi Province supported overseas expansion by forming a joint pavilion, which included five companies: GEMSS Healthcare, MiCo BioMed, ACE Medical, ZenithT, and CARE for U. They conducted discussions with buyers from Central Asian countries who visited the exhibition, exploring product descriptions and gauging their purchasing intentions.
The Kazakhstan International Healthcare Exhibition, with a scale of over 200 booths, is the largest event of its kind in the country. It encompasses medical devices, diagnostic equipment, laboratory instruments, emergency medical equipment, and the export-import of medical supplies.
Gyeonggi Province has already participated in this exhibition from 2013 to 2017, where it operated a joint promotional pavilion for Gyeonggi Province. With the aim of further solidifying the foundation for overseas expansion in the medical industry after the conclusion of the COVID-19 pandemic, Gyeonggi decided to participate in this exhibition.
Kazakhstan, with a population of 19 million, is a country in Central Asia and a promising market with high potential in the emerging northern direction. Along with neighboring Central Asian countries, it is a region where the export of medical devices and equipment from Gyeonggi Province is also active.
Gyeonggi Province has been promoting international healthcare projects since 2009 and has built a network of exchanges with overseas governments based on this initiative. Leveraging this network, the province is actively pursuing overseas marketing and operating joint pavilions at trade shows and exhibitions to facilitate the international expansion of the medical industry.
According to Gyeonggi Province officials, there has been a steady increase in demand for Gyeonggi's medical device companies to enter the Central Asian market. An official stated, "Based on the human network we have established with local governments in the Central Asian region, we will continue to provide ongoing support for successful market entry."