[July.2023] Gyeonggi Province Invites Mongolian Medical Professionals ...
Name 관리자
Date 2023-07-13
Views 336
Gyeonggi Province Invites Mongolian Medical Professionals
to Share Advanced Medical Technology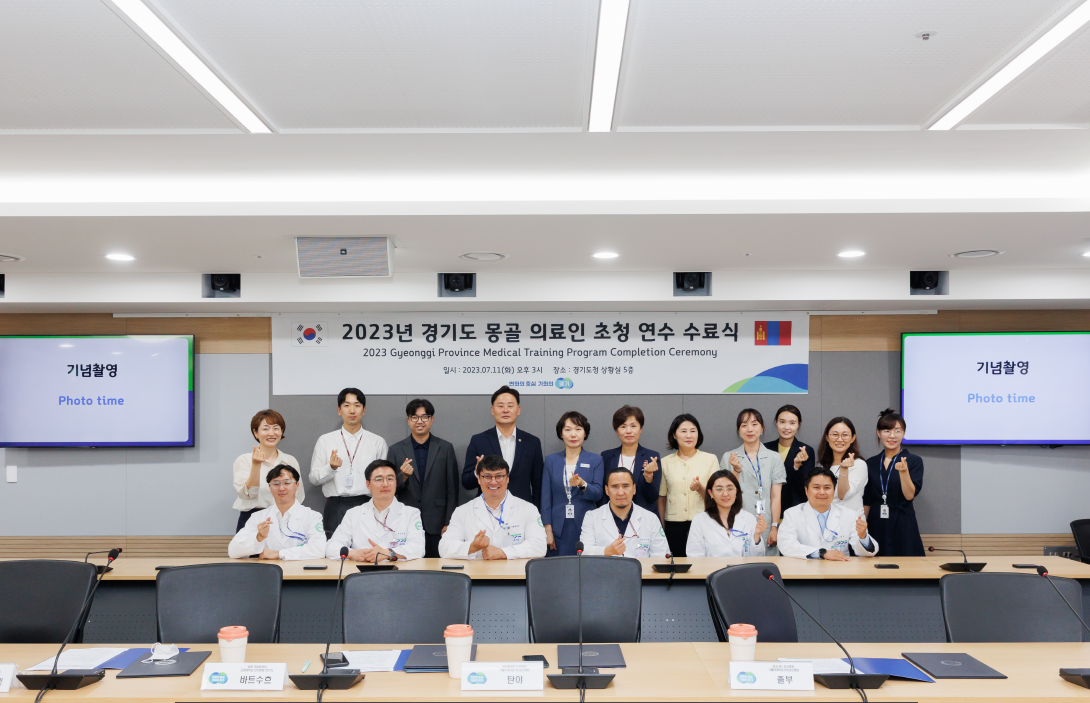 Gyeonggi Province invited medical professionals from Mongolia and shared advanced medical technology of Gyeonggi Province at local hospitals.
On the afternoon of July 11, Gyeonggi Province held a completion ceremony for Mongolian medical professionals who were invited to Gyeonggi Province at the Gyeonggi Provincial Office Situation Room.
During the four-week training period from June to July, 10 trainees received education on advanced medical technology based on excellent clinical skills and information technology (IT) at four hospitals within the province, including the ▲ Catholic University of Korea Bucheon St. Mary's Hospital, ▲ Korea University Ansan Hospital, ▲ Soonchunhyang University Hospital Bucheon, and ▲ Myongji Hospital.

A total of six trainees participated in the completion ceremony. They included specialists in general surgery, neurosurgery, and obstetrics and gynecology from Mongolia National Medical Center, Mongolia First Central Hospital, and Mongolia Second State Hospital. In addition, four Mongolian trainees from the Mongolia Tuv Aimag Hospital, who had already completed their training, have departed for their home country.
Throughout the training period, they showed a high level of interest in advanced medical technologies for treating severe diseases, the "Smart IT Treatment Technology" implemented and operated by Gyeonggi Province hospitals, and robotic surgery utilizing state-of-the-art medical equipment.

As part of the follow-up projects after signing health and medical cooperation agreements, Gyeonggi Province has been implementing overseas medical professional training programs by inviting healthcare professionals from 10 countries, including Uzbekistan, Mongolia, Kazakhstan, Vietnam, and Cambodia.
From 2011 to 2022, a total of 810 healthcare professionals from 10 countries have experienced and received education in Gyeonggi Province's advanced medical technologies through the support program for overseas medical professional training.
This year, Gyeonggi Province plans to directly invite or conduct online training for a total of 90 trainees from collaborating countries such as Mongolia, Uzbekistan, Kazakhstan, and Vietnam, who are seeking medical professional training in Gyeonggi Province.
According to a Gyeonggi Province official, the overseas medical professional training program is considered a key project for strengthening human exchange networks and establishing a foundation for the overseas expansion of the medical industry. He stated, "We will spare no effort in supporting a larger number of healthcare professionals from various regions to visit Gyeonggi Province for training purposes this year.